Dr. Rachid is very passionate about helping others through missionary trips.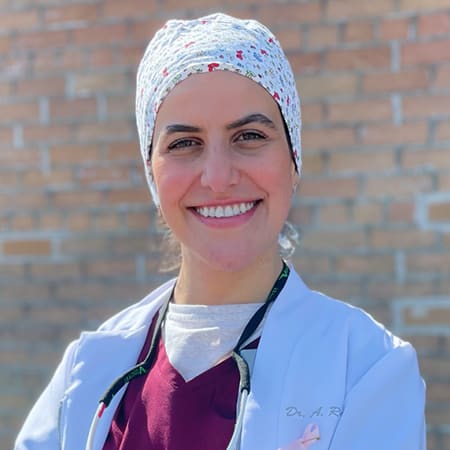 Dr. Asmaa Rachid
General Dentist
DMD, The International University for Science and Technology in Syria
Biography
Dr. Rachid is a general dentist who graduated with honours in 2010 from The International University for Science and Technology in Syria as a Doctor of Dental Surgery. She immediately moved back to Canada to re-join her family, and started to practice dentistry in Ottawa in 2015.
Dr. Rachid enjoys dental surgeries, which is why she invested a lot of time and effort attending dental surgery-related courses and residencies, and reading and practicing in that field. She successfully finished an Oral Surgery Residency for General Dentists and an Implant Residency in Toronto. Along with surgery, Dr. Rachid also does endodontic (root canal treatment), restorative, cosmetic and prosthetic procedures. Dr. Rachid has advanced training in medical emergencies, nitrous oxide, and mild and moderate sedation.
In 2015, Dr. Rachid Co-Founded Canadian Dentists for Refugees to provide free-of-charge dental treatment to new refugees in Canada. This project extended from coast to coast and helped a lot of families maintain good oral health.
On a personal level, Dr. Rachid is very physically active. She is a committed yogi (currently obtaining her yoga teacher license). She is also a Spin (Cycling) Instructor. Dr. Rachid enjoys reading, the outdoors, travelling, and connecting with people. She enjoys spending quality time with her family, especially her nieces and nephews.
Dr. Rachid finds that dentistry and social media allow her to accomplish her goal of helping others achieve the best version of themselves. Follow her on Instagram.