If you are considering replacing a missing tooth, the Greenbank Hunt Club Dental team in Ottawa can assist you with all your dental implant needs.
Request Appointment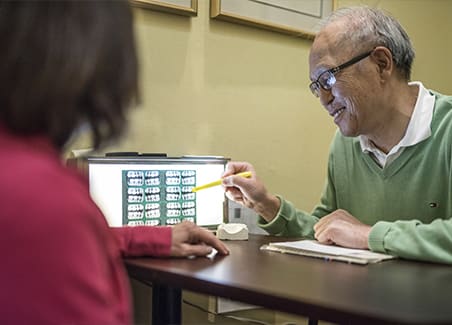 What is a dental implant?
A dental implant is a tiny titanium screw that acts as an artificial tooth root to replace a missing tooth.
The implant is then placed into the jaw bone, which over a short time bonds into the bone.
Once the implant has bonded with the bone, it is usually capped with a dental crown. Together, the implant and crown act as a stable and natural-looking replacement for a missing tooth.
Who is an ideal candidate for a dental implant?
Dental implants are ideal for patients who are missing teeth and who have otherwise healthy mouths.
Dental implants are the most invasive option for replacing missing teeth. 
In addition, patients with small jawbones, or jaw bones that have deteriorated as a result of prolonged tooth loss, may need a bone graft in order to accommodate an implant. This makes an already somewhat invasive procedure even more so.
As as a result, some patients prefer removable or semi-fixed options like dentures or dental bridges.